Want to calculate your order?
Depending on the direction and required services, we will calculate the cost of your order.
Works may include modeling, construction, technological preparation, cutting and sewing.
Now our garment factory has the International certificate ISO 9001: 2015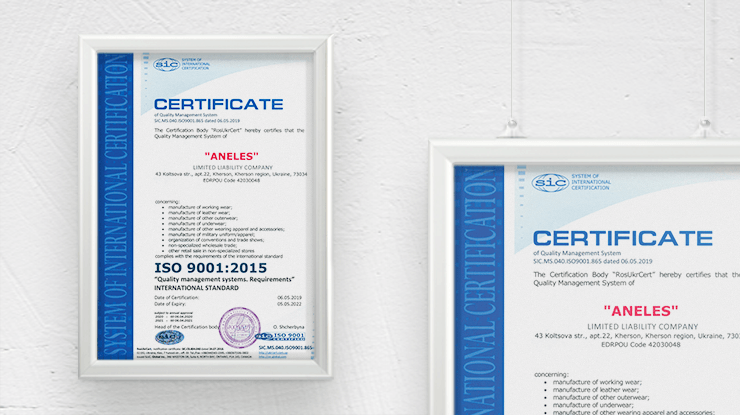 Which confirms the compliance of the quality management system of our company and production management with international standards, it ensures high quality. The compliance of the company with this standard is proof of competent, systematic enterprise management and is a significant advantage among other market operators. Certification is not a mandatory process, but we passed it in order to further confirm the reliability of our company as a partner.
Now the compliance of our company with international standards will be checked by an independent certification authorized body every year, the next audits of our company are in 2020 and 2021.
What is ISO9001?
International Organization for Standardization (ISO) is the largest international organization for standardization of business and technological processes. One of the most famous and replicated by almost all states of the world are the ISO 9000 series standards, concerning the construction of a quality management system of companies. Among these documents, ISO 9001 "Quality management systems. Requirements." occupies a special place.
07.05.2019
Need a consultation?
Write your phone number so that we can contact you to clarify the details of the order. You can ask all your questions.